Add the missing menus to Internet Explorer 9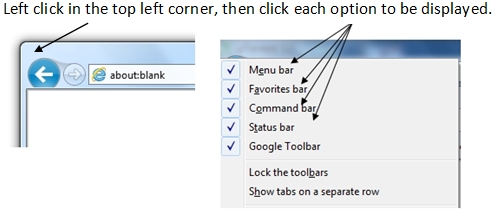 Shut down in 4 key strokes
Press Windows Key 

then Tab, then Tab again, then enter/return.
Increase / Decrease thumbnail size and icon size

When you are looking at some pictures in a folder, or icons on the desktop, press and hold CTRL then roll the mouse scroll wheel up or down to increase or decrease the size.
Find a document, or folder or programs etc.

Click the start menu Orb 

, then type in the name of the item you are looking for, and wait while the computer searches, it'll then show you a list of what it's found.
View folders, like you used to see in XP
Go to the Control panel, then type folder, click on Folder Options, then tick the two boxed at the bottom of the window and press OK.
Add missing Desktop Icons: User Files, Computer, Recycle Bin
Right click the mouse in a blank area on the desktop and choose Personalize, then click Change Desktop Icons, Tick the relevant boxes and press OK.
Windows logo key keyoard shortcuts
| | |
| --- | --- |
| | Open or close the Start menu. |
|  +Pause | Display the System Properties dialog box. |
|  +D | Display the desktop. |
| +M | Minimize all windows. |
|  +Shift+M | Restore minimized windows to the desktop. |
|  +E | Open Computer. |
|  +F | Search for a file or folder. |
| +F | Search for computers (if you're on a network). |
|  +L | Lock your computer or switch users. |
|  +R | Open the Run dialog box. |
|  +T | Cycle through programs on the taskbar. |
|  +number | Start the program pinned to the taskbar in the position indicated by the number. If the program is already running, switch to that program. |
| Shift+ +number | Start a new instance of the program pinned to the taskbar in the position indicated by the number. |
| Ctrl++number | Switch to the last active window of the program pinned to the taskbar in the position indicated by the number. |
| Alt++number | Open the Jump List for the program pinned to the taskbar in the position indicated by the number. |
| +Tab | Cycle through programs on the taskbar by using Aero Flip 3-D. |
| Ctrl++Tab | Use the arrow keys to cycle through programs on the taskbar by using Aero Flip 3-D. |
| Ctrl++B | Switch to the program that displayed a message in the notification area. |
| +Spacebar | Preview the desktop. |
| +Up Arrow | Maximize the window. |
|  +Left Arrow | Maximize the window to the left side of the screen. |
| +Right Arrow | Maximize the window to the right side of the screen. |
| +Down Arrow | Minimize the window. |
| +Home | Minimize all but the active window. |
| +Shift+Up Arrow | Stretch the window to the top and bottom of the screen. |
| +Shift+Left Arrow or Right Arrow | Move a window from one monitor to another. |
| +P | Choose a presentation display mode. |
| +G | Cycle through gadgets. |
| +U | Open Ease of Access Center. |
| +X | Open Windows Mobility Center. |